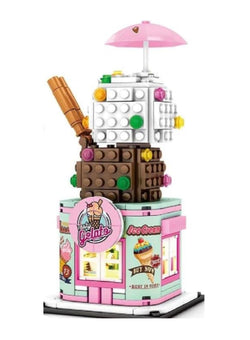 Gelato Ice Cream Sundae Building Blocks Toy Set | General Jim's
Introducing General Jim's City Gelato Ice Cream Shop Building Blocks Set, an innovative product that offers fun and learning. This set is a high-quality, major brand compatible toy building blocks set that is designed to engage and stimulate creativity and cognitive skills.

The General Jim's Ice Cream Shop set is an educational STEM building set that challenges your builders abilities while providing hours of entertainment. It features a detailed ice cream shop model, complete with intricate details that bring the setting to life. The set features a variety of building blocks, encouraging exploration and build according to their imagination.

This building blocks set will mesh well within other previous city builds. Each piece is designed to fit perfectly with major brick-building brands, including Lego City and Lego Friends. This compatibility extends the possibilities for combining and creating their unique builds.

Building the General Jim's Ice Cream Shop will help develop problem-solving skills, hand-eye coordination, and spatial awareness. The detailed instructions make the assembly process an enjoyable learning experience.

The finished build measurement 6.75 in tall x 3.5 in wide x 3 in deep. All General Jim's Building Blocks are lego compatible, allowing for endless combinations and designs. The vibrant colors and various shapes of the blocks are sure to captivate your child, keeping them engaged for hours. This delightful ice cream shop set makes an excellent gift for birthdays, holidays, or any occasion.

Explore the exciting world of General Jim's City Gelato Ice Cream Shop Building Blocks Set. Create, build, and imagine with this educational yet fun build. Enjoy the satisfaction of building your very own ice cream shop. Don't miss out on this must-have building blocks set.