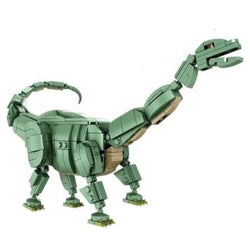 Brontosaurus and Brontosaurus Fossil 2 in 1 Building Blocks Toy Brick Set | General Jim's Toys
General Jim's Brontosaurus And Brontosaurus Fossil 2 in 1 Building Block Brick Set. This is a 731 Piece building block set. It is posable, let you imaginations run wild. Pair with other General Jim's dino's for playtime or as a 3D model setup. The head can be turned, the mouth opens and closes, the tail moves and other joints can be rotated. There is also a second brontosauraus, it is a skeleton model on a pedestal with a plaque for display. Finished build measurements on the brontosaurus are 16 cm tall x 7 cm wide x 48 cm long, The fossil set is 19 cm tall x 14 cm wide x 45 cm long.
General Jim's building blocks are compatible with Lego®, Cobi®, Wange, Sembo® and all major brick building brands.